Mouse over image for a closer look
Cargo Crates
The Cargo Collection is a stylish, rustic range of units and merchandisers made from good quality timber, bringing a distressed, vintage look to shops selling footwear, menswear, surf gear, gifts, books, soft knits and many other types of products. These reproduction packing crates are machine made for a neat, new finish but still giving the look of old wood. Available plain or with an old fashioned brand on one side for added effect. They can be used singly or stacked as plinths, shelving units, containers or boxes on shop floors or in window displays to add height and interest.

This item is fully covered by our 14 Day No Quibble Guarantee. Should it not meet your expectations for any reason, simply call Customer Services on 0330 44 55 666 for a returns number and send back the goods complete, undamaged and in their original packaging within 14 days for a refund. For our full Returns Policy
Click here
.
Heavy Goods
Please allow up to 5 working days for delivery.
This item is subject to a Heavy Goods charge - please add £55 to the prices shown.
Standard delivery charges still apply.
Standard Delivery Charges
Orders from £20 to £85 - delivery is £4.80
Orders over £85 - FREE delivery (excluding heavy goods)
All prices quoted are excluding VAT.
Orders placed before 4pm are usually delivered the next working day.
Price per unit (exc. VAT)
Cargo Wooden Crates - Large&nbsp- Set of 3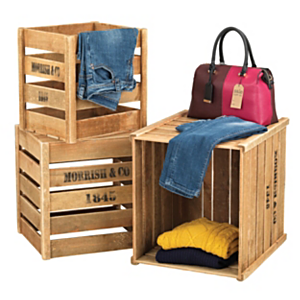 28
Available
false

Set of 3
Product Code: 88331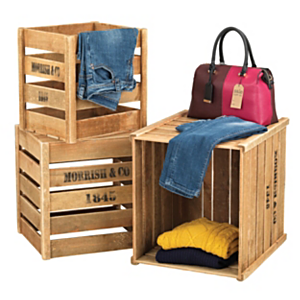 28
Available
false

Price per unit (exc. VAT)

Cargo Wooden Crates&nbsp- Wooden Crates 50 x 40 x 30cm - Set of 3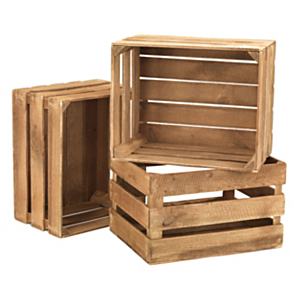 25% Off When You Buy 2 Or More
25% has already been deducted from the 2@ price shown

5
Available
false

Wooden Crates 50 x 40 x 30cm - Set of 3
Product Code: 88332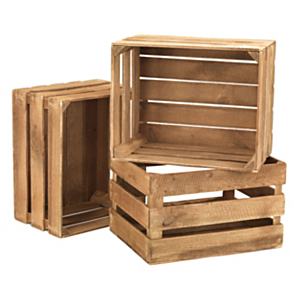 5
Available
false

Price per unit (exc. VAT)

25% Off When You Buy 2 Or More
25% has already been deducted from the 2@ price shown