Mouse over image for a closer look
White Heritage Crates
Attractive, rustic, aged wooden crates with stylish whitewash finish that matches our Heritage White Collection of merchandising units and gondolas but also work effectively on their own. Can be nested for easy storage and used as containers, shelves or podiums on counter-tops, shelf displays or window displays. Suitable for any type of smaller product including clothes, books, gifts, homeware and more. Perfect for anywhere with a shabby chic, New England or vintage look interior. Sold in sets of three.
This item is fully covered by our 14 Day No Quibble Guarantee. Should it not meet your expectations for any reason, simply call Customer Services on 0330 44 55 666 for a returns number and send back the goods complete, undamaged and in their original packaging within 14 days for a refund. For our full Returns Policy
Click here
.
Standard Delivery Charges
Orders from £20 to £85 - delivery is just £4.80 per order
Orders over £85 - FREE delivery (excluding Heavy Goods)
All prices quoted are excluding VAT.
Please note our minimum order value is £20
Orders placed before 4pm are usually delivered the next working day.
(24 Hour Deliveries are not possible in certain UK postcodes).
Heavy Goods Charge of £55 applies only to certain large items
and this is clearly shown on the relevant page on our website. See details of our
Next Day Guaranteed Delivery options
.
Price per unit (exc. VAT)
Heritage White Wash Wooden Crates&nbsp- Counter-Top - Various Sizes - Each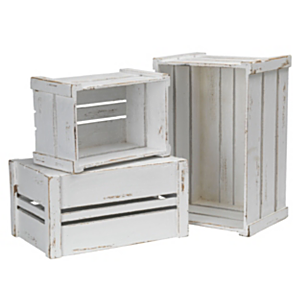 Rated 4 out of 5
from 1 review(s)
49
Available
false
Counter-Top - Various Sizes - Each
Product Code: 88330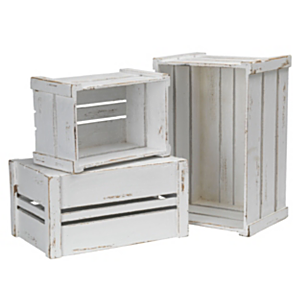 49
Available
false
Price per unit (exc. VAT)

Heritage White Wooden Crate 50 x 40 x 30cm&nbsp- White - 50 x 40 x 30cm - Set of 3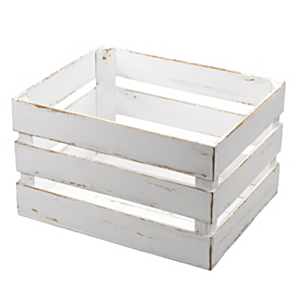 211
Available
false
White - 50 x 40 x 30cm - Set of 3
Product Code: 88329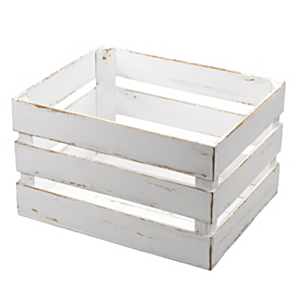 211
Available
false
Price per unit (exc. VAT)