Mouse over image for a closer look
Vintage Fayre Window Cling
Add a lovely, summery feel to your window displays with this charmingly retro window-cling banner. Featuring a colourful, 1950s style bunting effect in vibrant green, blue, yellow, red and pink, it is suitable for any type of window including boutiques, department stores, garden centres, gift shops, cafes, restaurants and more. Use on their own or with matching sale posters, streamers, tickets and cards if you want an impactful and stylish approach to sale season. Simply peel off backing sheets, dampen glass surface and apply the cling, smoothing down to finish. Keep the backing sheets, store carefully and re-use. Also suitable for mirrors, and glass cases. For best results smooth down with a Squeegee 41100.

This item is fully covered by our 14 Day No Quibble Guarantee. Should it not meet your expectations for any reason, simply call Customer Services on 0330 44 55 666 for a returns number and send back the goods complete, undamaged and in their original packaging within 14 days for a refund. For our full Returns Policy
Click here
.
Standard Delivery Charges
Orders from £20 to £85 - delivery is just £4.80 per order
Orders over £85 - FREE delivery (excluding Heavy Goods)
All prices quoted are excluding VAT.
Please note our minimum order value is £20
Orders placed before 4pm are usually delivered the next working day.
(24 Hour Deliveries are not possible in certain UK postcodes).
Heavy Goods Charge of £55 applies only to certain large items
and this is clearly shown on the relevant page on our website. See details of our
Next Day Guaranteed Delivery options
.
Price per unit (exc. VAT)
Vintage Fayre Bunting Window Cling&nbsp- Bunting - 1m x 25cm - Each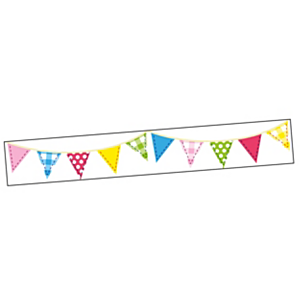 23
Available
false

Bunting - 1m x 25cm - Each
Product Code: 77337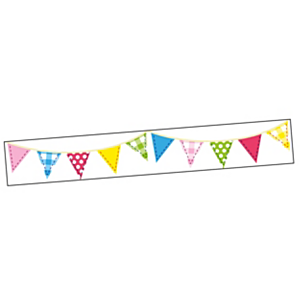 23
Available
false

Price per unit (exc. VAT)