Mouse over image for a closer look
Postcard Carousel
Rotating, counter-top carousel racks for displaying and selling greetings cards, postcards and other slim items. They can be rotated for customer convenience and are ideal for hotels, card shops, gift shops, newsagents and more. Place by the till to inspire impulse purchases. Taller version is made from a strong metal wire and includes clip on top for price lists, sale cards, signs etc plus 18 extra deep pockets for items such as DVDs and cards up to 127 x 177mm. Shorter version has 12 landscape and 8 portrait pockets to take items up to 150 x 105mm. Floor standing version is also available.
This item is fully covered by our 14 Day No Quibble Guarantee. Should it not meet your expectations for any reason, simply call Customer Services on 0330 44 55 666 for a returns number and send back the goods complete, undamaged and in their original packaging within 14 days for a refund. For our full Returns Policy
Click here
.
Standard Delivery Charges
Orders from £20 to £85 - delivery is just £4.80 per order
Orders over £85 - FREE delivery (excluding Heavy Goods)
All prices quoted are excluding VAT.
Please note our minimum order value is £20
Orders placed before 4pm are usually delivered the next working day.
(24 Hour Deliveries are not possible in certain UK postcodes).
Heavy Goods Charge of £55 applies only to certain large items
and this is clearly shown on the relevant page on our website. See details of our
Next Day Guaranteed Delivery options
.
Price per unit (exc. VAT)
Counter Top Greeting Card Carousel&nbsp- Silver - Each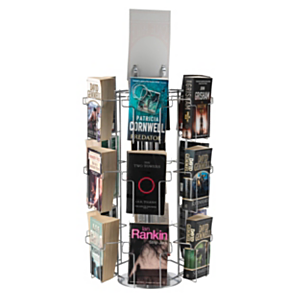 17
Available
false
Silver - Each
Product Code: 88296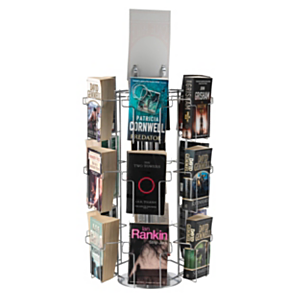 17
Available
false
Price per unit (exc. VAT)

Postcard Carousel&nbsp- White - Each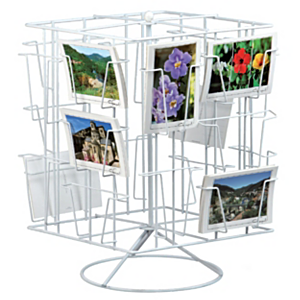 Rated 4 out of 5
from 1 review(s)
6
Available
false
White - Each
Product Code: F44561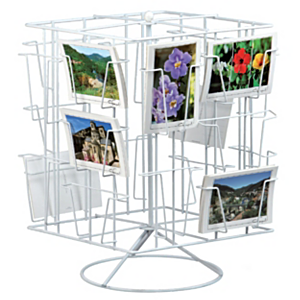 6
Available
false
Price per unit (exc. VAT)